Wholesale Dried Herbs & Spices
Top Quality to Meet Your Requirements
We are producers and importers of dried herbs, spices, vegetables and fruit. We specialise in the growing of parsley and other English Herbs, while maintaining extensive stocks of a very broad range of imported goods.
To help achieve our aim of complete customer satisfaction Camstar Herbs has developed a custom built harvesting machine which picks the herb leaves to be dried, thereby enhancing the quality of the finished leaf flakes. This is a way of harvesting which gives the option of tailoring the bulk index to suit individual Camstar customers' specific jar fill requirements.
The superior leaf quality obtained also enhances the appearance of the final product, with colour separation equipment removing any remaining discoloured leaf.
In-line heat treatment ensures maintenance of the position of Camstar Herbs, we supply the industry's very lowest microbiological levels.
Latest News
Our latest aquisition is our new chive harvester. Here's a chance to see it in action as it cuts while it harvests.
Sustainability Report 2018
Forward into the future Camstar are developing a strategy for sustainability, ethical responsibility and increased efficiency . Good for the environment, and good for business too. This report outlines what we do already, and what plans we have...
Read More
Parsley Production Flow Chart
At Camstar we always want to provide the best possible products to our customers, and so we make sure we're in control at every stage. Parsley seeds are selected by Camstar for our Red Tractor Assured growers to...
Read More
Product search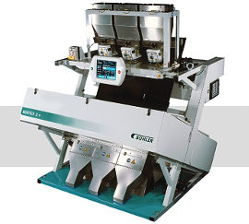 Buhler Sortex coloursorter