Camstar Produce Top Quality Dried Herbs
Harvested & Air Dried to meet your requirements
To help achieve our aim of complete customer satisfaction Camstar Herbs has developed a custom built harvesting machine which picks the herb leaves to be dried, thereby enhancing the quality of the finished leaf flakes. This is a way of harvesting which gives the option of tailoring the bulk index to suit individual Camstar customers' specific jar fill requirements.
The superior leaf quality obtained also enhances the appearance of the final product, with colour separation equipment removing any remaining discoloured leaf.
In-line heat treatment ensures maintenance of the position of Camstar Herbs, we supply the industry's very lowest microbiological levels.
Latest News
Our latest aquisition is our new chive harvester. Here's a chance to see it in action as it cuts while it harvests.
A 4th Jcb Fastrac For The New Season
In anticipation of the new Parsley season, starting July this year, we have invested in a fourth JCB Fastrac tracktor and trailer. With our policy of field to factory in less than half an hour we need to invest in...
Read More
Another New Coloursorter
As the July start of the 2016 Parsley season approaches we've just installed a second Bühler coloursorter in our Camstar 1 plant. This one's a larger two pass sorter for improved rejection of foreign bodies.
Meanwhile over...
Read More
Product search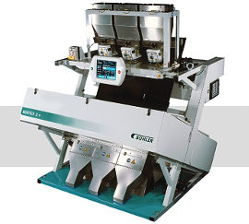 Buhler Sortex coloursorter